1 - Where there is a push in bulb with two metal 'legs'


this is called a G4 fitting
2 - Where the bulb is included in a sealed reflector casing



these are normally MR11, 35mm diameter or MR16, 50mm diameter fitting

LED versions of these bulbs are available, they normally have more than one individual LED per 'bulb'
G4 fitting: Side pins

rear pins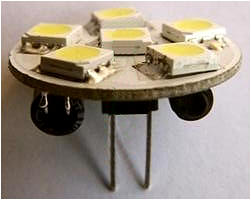 MR11 or MR16 fitting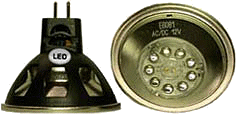 The individual LED's come in two different types, those that are clear and look like a glass dome, and flat square, often yellow, ones.

They also give out different shades of White light!

Cool White give a cold bluish light
Warm White give a warm yellowish light
and the recently available Day White which to me gives the most natural light.
There are two other important things
As with most things you get what you pay for, and the most important thing to check is how much light each device gives out.
Also will it fit your Caravan fitting, some of the G4 bulbs that come with a plastic surround are too big.
Changing the bulbs
click the image for larger picture
This recessed fitting with a G4 bulb fitment, needs the glass to be removed to access the bulb. It is held in place by the black plastic ring. You need to ease out one side of the ring from the metal casing by inserting, say, a small screwdriver and levering the plastic ring towards the centre. this will then enable you to remove the ring.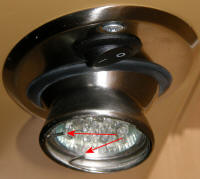 This type of fitting, MR11 or MR16 bulb, requires the removal of the metal spring clip that holds the bulb in. Squeezing the two ends together enable you to remove the clip and pull out the bulb.