Motor Mover
Why buy a Mover?
There are several reasons why we bought a mover and would never have another Van without one.
A- We are getting older!!
B- It moves the Van without effort, especially useful when using levelling ramps
C- It makes hitching up a doddle even on rough ground.
D- We can easily site the Van nose in or sideways on a pitch, especially useful on Continental Sites and enables us to maximise the view.
E- Very easy to position the van wheel to fit an Al-ko wheel lock.

November 2012 up-date
We have changed our van to a twin axle so needed to buy a new mover that was suitable. We had always been very pleased with the Powertouch, but the Dealer said they only used the Truma TER for the twin axle vans they supplied. The TER is a single axle mover with electronics that were designed for double axle vans. We asked why they didn't fit twin axle (4 motor) models and they said it interfered with things like the jacking points. Well, we have always had good advice from them before so we went ahead with it.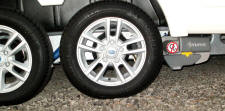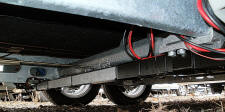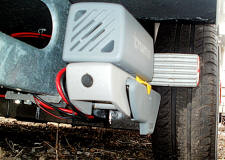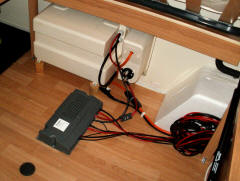 What do we think of it? Well as they say the 'Jury is still out' The motorised engagement of the rollers is useful as we found the hand leaver operation of the Powertouch hard work. But, it is a nuisance to have to put the 13 pin plug into a special socket on the A-frame to engage it. (and remember to do it!!) The mover works in an unusual way, having to 'shuffle' the non moving side to 'unwind' the twisting of the tyres due to it being a double axle, it sort of crabs as it moves, OK when you get used to it but strange at first and dangerous when you are near something. With the single axle van we could spin it 'on a six pence' but now it does take a long time to rotate on its axle but OK in a straight line .
Our original mover, Powrtouch Heavy Duty Mover with cross-actuator
This is the one I have fitted and find excellent and provides very precise movement. I have only had a problem once with it, one of the motors became noisy. A phone call to Powrtouch had two new motors sent to me and a local fitter called and fitted them, excellent service.
Click on images for full size photo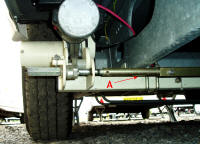 A- Cross-actuator bar enables both sides to be engaged together from either side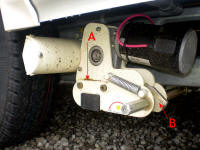 B- engaging cam A- sliding contact, needs greasing twice a year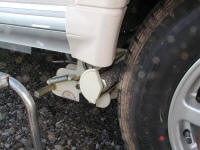 Alloy roller engages with the tyre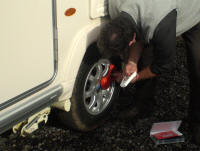 One of the ideal uses for the mover, fine adjustment of the wheel position to locate the Al-ko wheel lock.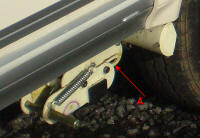 It is very important to grease this slide on both sides, twice a year, or it will feel hard to engage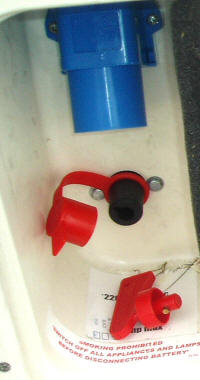 The main Powrtouch isolator switch normally mounted in the battery box.
The red key is inserted and turned, you need to do this before and after you use the Mover.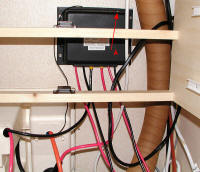 In my Van the control box is mounted on the wall behind two drawers.
A- indicates the position of the jack socket should you need to use the remote handset with the cable provided.