Environmental Badge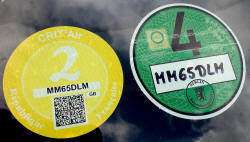 Crit'Air: The Air Quality Certificate (France)
Umweltplakette: environmental badge (Germany)
In some cities in Germany and an increasing number of areas in France you now need an environmental badge on your vehicle showing the catagory of emissions. Whilst you may not be planning to enter these areas, the badges are easy and cheap to get so if you change your plans you are covered. The fines for not displaying the correct sticker can be quite large.

Below are details of the requirements and where to apply. Be warned there are other web sites charging up to 10 times the official site costs. These are the sites I used and I paid by Credit Card.

You will need to send a copy of the page in the V5 that has the emissions data. A photograph, suitably reduced in size, to make it small enough in file size to be attached, will do.
Crit'Air: The Air Quality Certificate (France)
Apply Here
Umweltplakette: environmental badge (Germany)
Apply Here