click on photos for full size images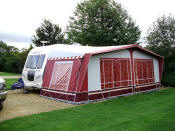 The awning has storm straps and additional guys. We use clothes pegs to keep the curtains fully closed when we leave it.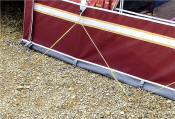 Additional guying using elasticated loops to provide some give.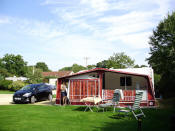 We can use my wife's car on visits which saves on petrol.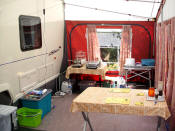 Set up in the awning includes a 'cooking area' with electric hotplate,
electric steamer, George Forman grill and toaster. We have 16A supply available.
We also use a fan heater in the evenings if required.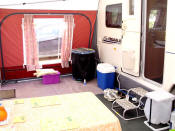 Cool box (for the wine and beer) and Cadac Carri Chef,
with separate gas bottle to enable us to use it where we wish (outside the awning of course)
Under the 'breathable' groundsheet we have tarpaulins placed on the gravel to keep it dry underfoot. The tarpaulins overlap the awning mudflaps and the caravan skirt and with the groundsheet over it, it is strategically weighed down to stop the wind getting underneath it . This makes the awning draft proof. We have placed a square of foam tiles around the step to change shoes etc. We cut a spare tile to shape and placed it in the wheel arch as a cover. We store everything in plastic boxes with lids to keep any water out (not that we have had any) and discourage 'wild life'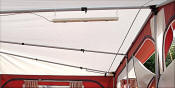 Mains lighting is provided by an Aldi under kitchen cupboard 3 spot halogen unit.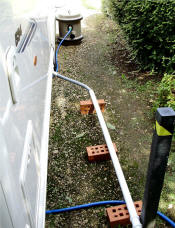 We are on a serviced pitch and have rigged up mains water input and mains drainage.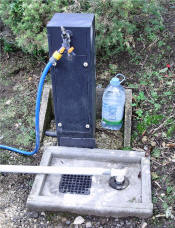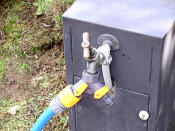 The use of this two way adaptor enables water to be taken from the tap without disrupting the normal supply to the Aquaroll.