Well, what about this photo? I had read on various Caravan Forums about 'Waterless' cleaner/polish and after much research decided to buy what seemed to be, by far, the 'best', Greased Lightning. Not cheap but able to get two bottles for £25. Well it says just spray it on, and using only micro-fibre cloths spread it over and polish off with another cloth. Doesn't need washing before or swilling off the muck etc. Won't work I originally thought, will scratch the paintwork yet alone the plastic windows on the van, so I tried it on my Land Rover which virtually has never been washed and certainly not polished. To say I was amazed is an under statement, not only very easy to use but brilliant result. Yes, I used quite a bit of it and three cloths as there was so much dirt but well worth it.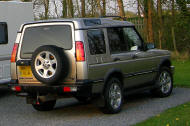 So onto the van. We arrived on site with it looking very dirty especially front and back. Using two new micro-fibre cloths and with some trepidation when doing the windows it came up fantastically and very easily, see the photo. Now I'm certainly not a cleaning fanatic and often when arriving on site think the front in particular could do with a wash but generally it gets left. What this product does is give me a quick/lazy way of keeping it looking nice that I will actually do!
I have no connection with the product but I am very happy using it. Friends who were with me and saw how easy it was to use and the results have now bought it as well.