Planning for Bailey Owners Club Rally 2020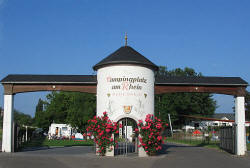 Campingplatz am Rhein, Rudesheim



Documents that have been sent out to Ralliers

List of Ralliers

General Information





Folkestone/Dover stay over Site
Quite a few people like to travel to the port/tunnel the night before crossing.
We can recomend the Drum Inn which is 1 mile from the motorway Junction 11, 4 miles to the Tunnel and 14 miles to Dover. Ideal, level, stop over, with good meals at the Pub



Calais Stay over Site


We like to travel straight over and stop at our favourite site la Bien Assise at Guines (can be booked via the Caravan Club PO5) a very easy 8 miles from the Tunnel. Nice site with plenty of facilities, Bar and Restaurant. The local Carrefour supermarket has fuel and shopping at prices on a par with the major Supermarkets in Calais. We stay two nights to stock up before onward travel. We also stay at it as a last site on our way home.

Cash and Credit Cards in Europe

Environmental Badge

Driving Information
Site local directions



Photos of the 2018 Rally can be found on the Galleries section of the

BOC Website
| | |
| --- | --- |
| | |
click on photos for larger image
First view of Rudesheim from the Bingen Ferry

The Site

owner's house on the right

site Shop and Restaurant

one of the toilet blocks
site exit to the Rhine
outside the site pedestrian entrance
path towards the town
New toilet block
outside seating area
site restaurant and friends!


Our favourite snack! Strammer Max
site Bar and Shop
Next to the Campsite is an open air pool and sports complex which many from the site take advantage of.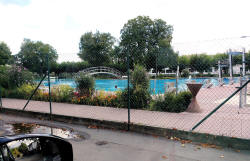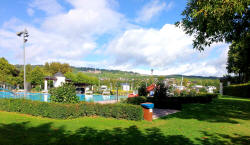 About 300 metres away is a very comprehensive shopping area with Aldi, Lidl and a couple of other supermarkets as well as a McDonalds, also a petrol station.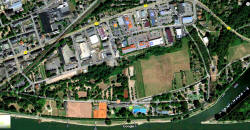 Rudesheim itself is a bit of an upmarket tourist resort which does very well from the visiting cruise ships. There is plenty to see and do and many eating and drinking establishments. The local Rhine cruise ships can be boarded from a jetty on the way into the town. Although there is plenty to do around the local area, the site itself is very quiet and peaceful and many campers can be found just sitting out and relaxing, many with a book and a glass of the local wine.
Routes from Calais or Dunkirk to Rudesheim.





Route 1

is the direct route we have taken, 348 miles, 330 miles on non-toll Motorways. We take the route via Bingen which is then a short ferry ride to Rudesheim (lasting under 10 min and costing €17 this year for our long caravan), this avoids the sometimes twisty and narrow road from Koblenz on the Rudesheim side or the longer route via Mainz. If you wish to make a stop over on this route, then the Caravan & Motorhome Club bookable site, Den Driesch

(REF : H10) at Valkenburg

is only 5 miles off the route, it is 200 miles from Calais.

Obviously there are plenty of other routes but these we have used often. We often go to Holland for a week or so before going to Germany. This can be a convenient way to break the journey and the roads are very good from Holland.
Route Planning
Google Maps



Get the coordinates of a place



On your computer, open Google Maps.
Right-click the place or area on the map.
Select What's here?


At the bottom, you'll see a card with the coordinates.



Degrees, minutes, and seconds (DMS): 41°24'12.2"N 2°10'26.5"E
Degrees and decimal minutes (DMM): 41 24.2028, 2 10.4418
Decimal degrees (DD): 41.40338, 2.17403
Via Michelin Route finder
To me one of the most useful route finder sites. The route produced includes the cost of any tolls and the route has graphics of the actual road signs at the junctions. you can register, for free, and save your various routes. This is the route we print out and follow as well as using our TomTom Sat Nav on which we enter the co-ordinates of our destination.
French Autoroutes
Web Site of the French Motorway network, includes a route planner using Via Michelin